RazoRock Razor Review – Is It Effective?
Surprisingly enough, RazoRock is not some new rock band that has suddenly appeared on the scene. In fact, what started out as a hobby for two Italian brothers in 2009 has turned into a resurgence of the art of shaving.
Family ingenuity has created a variety of wet shaving products under the RazoRock brand. What has developed includes specialized formulations and devices, such as shaving soaps, aftershaves, prehsaves, shaving brushes, natural deodorants as well as the RazoRock razor. This has burgeoned on the scene with a full lineup of razors. The entrepreneurial family now has a full-blown business through referrals, the Internet, and direct distribution.
The RazoRock razor is the shaving tool that has put the company on the map and into the hands of shaving aficionados everywhere. The Italian brothers know what features, uses and benefits their razors provide, and they want to make sure that all their customers and wet shaving users know what they'll find in a RazoRock razor.
Features & Functions of RazoRock Razors
RazoRock has some razors in their shaving line that currently includes 17 different razor models and styles that consist of a single edge, double edge, safety, slant and open comb safety razors.
Three of the more popular razors in the line are the RazoRock Mission Double Edge(DE)3 Piece Safety Razor, the RazoRock Quick-Change Double Edge Safety Razor, and the RazoRock German 37 Slant Razor – Torsionshobel.
#1. RazoRock Mission Double Edge (DE) 3 Piece Safety Razor
The RazoRock Mission is a solid safety razor that has a lasting quality far beyond cartridge brands. It has a solid handle, heft and easy grip with a textural yet smooth gripping power. Its beautiful fit and finish in comparison to other razors in the same price range are notable.
Material: Stainless Steel 316L bulldog style.
Pieces: 3 (2-piece head and handle).
Aggressiveness: between mild and strong.
Length/Handle: 3.5 inches.
Weight: 3.1 oz.
 RazoRock Mission Double Edge (DE) 3 Piece Safety Razor Advantages
Nice compromise between mild and aggressive shaving power.
Good for men with acne, skin irritations or other skin conditions.
Good head-to-handle weight ratio.
Amazingly close and clean shave with doubled edge razor.
Doubled edge razor shaving ability lasts longer than comparable cartridge razors.
Solid weight prevents razor skipping and jumping.
Usually, includes extra blades.
RazoRock Mission Double Edge (DE)3 Piece Safety Razor Disadvantages
The risk of nicks and scrapes appearing when blades aren't properly seated.
May have quality control issues.
The inside of upper handle stem may be subject to breakage.
Appears to be not intense enough for coarse hair removal.
Some corrosion issues with chrome covering the head.
#2. RazoRock Quick-Change Double Edge Safety Razor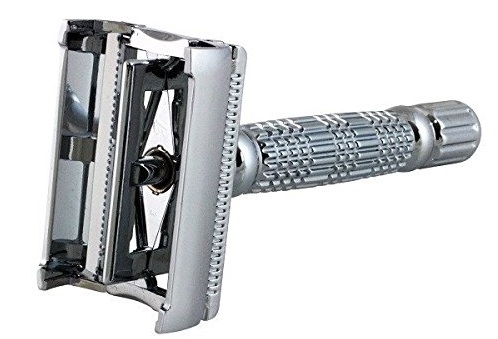 This Quick-Change double-edge RazoRock razor is a quality, affordable and reliable option in a safety razor. The shaver has an easy open design for a gentle, easy and pleasant shave and exchange for blades. It has a mirror-like chrome finish and provides a comfortable, yet substantial feel in hand and blade replacement is minimal while cost saving.
Material: Chrome plated alloy.
Aggressiveness: Gentle to mild.
Length/Handle: 3.35 inches.
Overall length: 3.74 inches.
Weight: 2.40 oz.
RazoRock Quick-Change Double Edge Safety Razor Advantages
Nicely made and plated.
Affordable for novice shavers.
Good for those just starting out with wet shaving.
Good for those with sensitive skin.
Easy blade change.
Fast cleanup with no blade removal.
Gentle and easy shave.
Usually, comes with a pack of double edge blades.
RazoRock Quick-Change Double Edge Safety Razor Disadvantages
Not advisable for those with a coarse beard or tough skin.
Razor requires more passes to achieve a closer shave.
Irritation can be caused by successive passes.
#3. RazoRock German 37 Slant Razor – Torsionshobe
This RazoRock razor is a 3-piece slant bar razor that uses regular double-edge razor blades. As a slant razor, the blade is turned in two different directions, so the thin but rigid blade allows for shaving the beard more effectively and efficiently.
Material: Mirror Polished Stainless Steel 316L bulldog style, CNC machined.
Head: Chromed Zinc Alloy.
Pieces: 3 (2-piece head) and handle.
Aggressiveness: Strong.
Length/Handle: 3.5 inches.
Weight: 1.98 oz.
RazoRock German 37 Slant Razor – Torsionshobe Advantages
Stainless steel machined handle.
Uses standard double-edge razor blades.
Increased mechanical strength.
Two-direction maneuverability.
Thin but rigid blade for efficient shaving.
Good balance and weight.
Greater precision and control.
Good for daily shavers or several days a week shavers.
Ideal for those with tough, coarse beards.
Good for those with sensitive skin.
Provides a better shave.
Efficient shave without irritation.
Efficient combination of blade exposure and angle.
Solid with no blade wiggle and alignment issues.
Low-cost blade replacement.
Usually, comes with blade replacements.
RazoRock German 37 Slant Razor – Torsionshobe Disadvantages
Can be more expensive than traditional razors.
May not offer the same efficiency with a heavier beard.
Considered to be more usable to experienced shavers.
May need to experiment with different blade brands or efficient shave.
May produce an inconsistent cutting effect and scraping across beard.
Putting It All Together
A RazoRock razor has all the necessary features to deal with a wide range of beard types such as thick, coarse, fine or fuzzy. The same is true with skin conditions that run from sensitive to harsh and in-between as well as actual shaving procedures, rituals, and other factors that affect the shaving process. Men simply have different preferences in what works for them with razors, blades and the different techniques they use to shave.
The three distinct RazoRock razors presented here address those shaving issues effectively. Maybe you have tried one of those reviewed or have one of your own. If you are thinking about trying one, take another look at the examples given here, and if you actually have been fortunate enough to have one already, share what you have experienced with any razor use in this line. Let everyone know what it feels like to experience a RazoRock razor shave.
Last update on 2022-08-01 at 22:12 / Affiliate links / Images from Amazon Product Advertising API