Gillette Fusion ProGlide Review – Is the Flexball Power Razor Worth the Money?
Gillette is one of America's most iconic cartridge razor brands. Founded in Boston in 1901, Gillette now sells its razors, gels, and aftershaves all around the world. One of Gillette's most popular shaving razors for men is the Gillette Fusion ProGlide. In this article, we'll give you an honest Gillette Fusion ProGlide review.
Gillette's designers say this cartridge razor blade is the finest shave you'll get for a low price. But what do the consumers have to say about this product? By the end of reading this piece, you should have a good sense whether or not the Gillette Fusion ProGlide is right for your shaving routine.
Features & Functions of Gillette Fusion ProGlide
Every Gillette Fusion ProGlide has a cartridge with five blades, four of which are the thinnest blades Gillette manufactures. Besides the five blades, Gillette Fusion ProGlide razors are probably best known for their Flexball technology.
For those out there that haven't heard of Flexball technology, it basically refers to a sphere on the razor that allows the cartridge to move side-to-side. Gillette designers claim the Flexball technology helps respond to every person's unique facial structure.
A few other interesting features of the Gillette Fusion ProGlide include a lubrastrip and a precision trimmer on the top of the blade. The lubrastrip was designed to reduce skin irritation while shaving, and the precision trimmer can be used for difficult to get at areas like by the nose or under the lip.
The official dimensions of this razor blade are 1.2 x 4.1 x 7.9 inches. You can buy a Gillette Fusion ProGlide with two cartridges online for $12.47.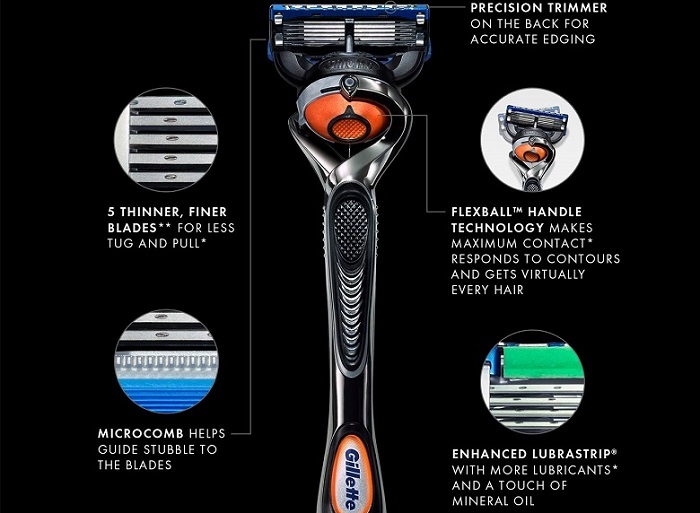 Pros of Gillette Fusion ProGlide
1: Easy to Use Due to the Flexball Technology
Most men who take the time to write a positive Gillette Fusion ProGlide review first mention the Flexball technology. Customers really like how flexible this razor blade is and how it contours to their face. Thanks to the Flexball technology, the learning curve on this razor is literally zero.
A newbie can pick up this blade and use it without any of the skills necessary for a successful safety razor shave. The flexibility of this razor blade is definitely a plus for anybody who's into manscaping. You can easily use the precision trimmer on the back to razor tip to get at harder to reach areas or to trim your sideburns.
2: Affordable Product
Another positive worth mentioning on this Gillette Fusion ProGlide review is the price. Of course, Gillette isn't a luxury brand, so you should expect a great value on this product.
For only $12.47, you'll get at least a month's worth of shaving with these two cartridges if you're shaving every day. Afterwards, you can pick up Gillette 12-count refills online for around $30.
3: Worldwide Availability – Global Brand
One nice thing about Gillette is that it's a global brand. This is a big plus if you do a lot of traveling for work. No matter where you are in the world, you'll most likely be able to find a Gillette Fusion ProGlide razor and/or cartridge replacement.
If for any reason you can't find a cartridge in a local store, you can definitely order replacements from online retailers and have them delivered right to your doorstep.
4: High Product Versatility
Even if you don't like the five-blade cartridge that comes with the Gillette Fusion ProGlide, you can mix and match different cartridges with this razor.
You'll see on the back of this product that you can use any handle made by Gillette as long as it has the "Fusion" label. A few of these cartridges you can try out include the Fusion Five Proshield and the Fusion Five Chill Proshield.
Cons of Gillette Fusion ProGlide
1: The Flexball Feature Might Be Tricky to Get Used to
A lot of the guys out there motivated to write a negative Gillette Fusion ProGlide review use single-blade safety razors. Although the Flexball technology helps mold to your face, you won't have the same amount of control as with a high-quality safety razor.
Safety razors take more time and practice to get used to, but they do tend to give you a closer shave with less irritation than Gillette products.
2: Almost the Same Price as a Regular Safety Razor
The price of this Gillette razor isn't exactly "lower" than a budget safety razor. Men looking to get involved in the safety razor world shouldn't put it off just because they think this Gillette razor will be less expensive in the long run. Actually, they both end up around the same price when you consider the increased durability of most safety razors.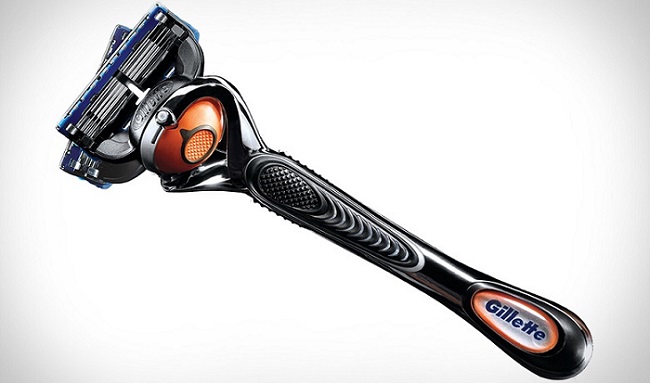 3: Difficult to Manage Around the Neck Area
A common complaint that comes up in a typical Gillette Fusion ProGlide review is how difficult it is to shave the neck area. You have to use incredibly light pressure while shaving on the neck to avoid getting nicks and cuts. Even with light pressure, a bunch of men out there get cuts on their neck anyway with this razor.
4: Some Men Might Experience Razor Burns
More doesn't necessarily mean better when it comes to blades. You can easily find a Gillette Fusion ProGlide review online warning men with sensitive skin away from this razor. While some like the added efficiency of the five-blade design, men with sensitive skin might experience a bit more razor burn after using this Gillette product.
Bottom Line of Gillette Fusion ProGlide Review
The positives of using a Gillette Fusion ProGlide are that it's easy, convenient, and relatively inexpensive. A few major cons with this product are that people with sensitive skin experience increased irritation, the price isn't that much lower than other razors, and the quality of the shave isn't as high as a safety razor.
Still, this is a sturdily built product that can last you years if you use quality lather and shave with minimal effort. Also, with the Flexball technology, you won't have to worry about the steeper learning curve that goes along with safety razors.
Overall, the Gillette Fusion ProGlide gets the job done and is extremely convenient for people who travel. If this Gillette Fusion ProGlide review piqued your interest, perhaps it's time for you to try this product for yourself.