How to Trim a Mustache: 7 Easy & Quick Steps
Trimming your mustache and beard can be a difficult process. Tips on how to trim your mustache might not seem easy, especially if you don't have enough experience with shaving. Also, if you want to radically change your beard style, you might want to carefully read the following tips. There are things to consider like beard length, hair coarseness, and more.
This article is going to explore how to trim a mustache. It will offer tips on the best way to prepare your facial hair for shaving & trimming, choosing the right product, and more. By the end of the article, you will have the knowledge necessary to trim your mustache effectively.
Top 7 Tips on How to Trim a Mustache Quickly and Easily
#1. Begin with a Full Mustache
The first tip that we will cover in our article on how to trim a mustache is that you should begin with a full mustache. This is especially important for those who want to try a new facial hair style. If possible, allow the hair to fully grow out for at least two to three weeks.
This helps you work easily on trimming your beard and mustache hair. It also gives you a little bit of wiggle room in the event you make a mistake such as accidentally rounding a corner too much. The more hair you have, the more you can customize the look while you shave and trim.
#2. Prepare Your Hair for Trimming
The next tip we have to offer in our how to trim a mustache article is to adequately prepare your hair for trimming. This includes many things like exfoliation, lifting the hair, and more. To do so, start with a nice hot shower.
While in the shower, use an appropriate facial exfoliant product for your skin type. This will help you to remove dead skin cells and cause the hairs to stand up more freely. More importantly, the steam and humid conditions will soften your hair growth for easier trimming while a decreased potential irritation.
After you finish with your shower, be sure to adequately dry off and remove and excess water from your beard and mustache area. You want the hair to be damp to the touch, but not soaking wet. A simple pat down with your towel should be sufficient.
#3. It's All About Lighting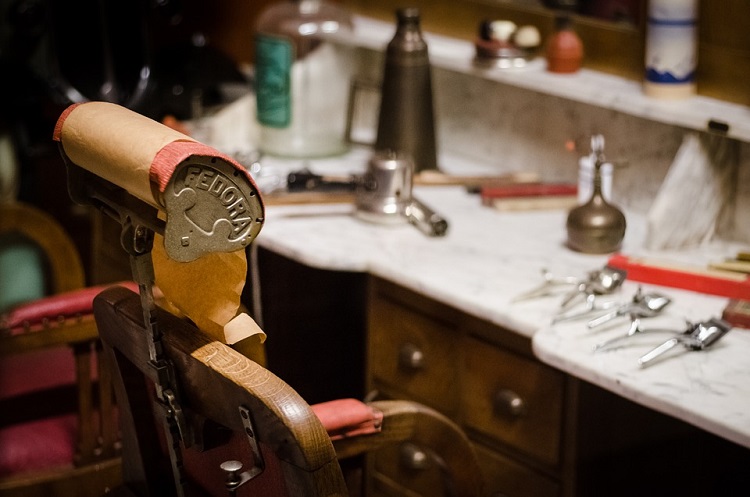 Now that you have prepared your skin and hair for shaving, it is important to find a suitable shaving area. The ideal location should have plenty of light and a reflective surface area. Usually, the best location is the bathroom. It is important to let the excess steam and humidity air out after your shower, so the mirror doesn't fog up.
If you wear glasses or have other vision problems, then you may benefit from a facial mirror. These mirrors are available at many retailers and are usually fog resistant and shatterproof. More importantly, they typically magnify whatever you are looking at. This makes them perfect for detail work like mustache trimming.
#4. Comb Your Mustache
The next tip in our article on how to trim a mustache is to effectively comb your mustache. Ideally, you want to use a mustache comb for this. These combs are generally smaller in design and have teeth that fit very closely together. They are perfect for ensuring the hair is evenly dispersed for an even trim.
If you do not have a mustache comb, then you can easily use a smaller comb with teeth that are close together. The smaller the teeth are, the better they are for separating hair on your upper lip and sideburns. It should be enough to pass the comb through the hair four or five times.
#5. Trimming Scissors for the Win
A good pair of trimming scissors is necessary for detail work. To use them effectively, begin by holding the scissors in your dominant hand in a position that minimizes shaking. You want to closely follow the curvature of your lip when outlining your mustache with them.
To minimize the likelihood of a mistake, make small and controlled cuts to the hair. Once you have finished trimming the bottom of the mustache along your lip, you can then begin trimming the top. Remember, the goal is to create a symmetrical appearance and to mirror the downward angle of your lip.
#6. Remove Excess Volume
For those with very thick facial hair growth, it is often necessary to remove excess volume. You can easily accomplish this by using two different ways. The first method involves using trimming scissors and a comb. You begin by lifting the hair with your comb and trimming it to an equal length. You will be using your scissors as a guard during this process.
The second method requires a trimmer with customizable shaving lengths. This method is generally safer and provides better results. Begin by selecting a length that is as long as possible and evenly running the shaver along your mustache in a slow and controlled motion. You can then further decrease the length and repeat the process until you get the desired results.
#7.  Forget About Post Shave
The last tip we have to offer is to remember the importance of your post shave routine. After you have achieved the look you desire, it is important to use an appropriate facial conditioner. For those with sensitive skin, try to steer clear of aftershave that has alcohol and other irritating ingredients. An appropriate product will soothe irritated skin while closing your pores.
Now that you have read our tips on how to trim a mustache you should have the necessary knowledge to effectively trim and maintain your mustache and other facial hair. An effective routine covers all the appropriate elements from pre-shave preparation to post shave skin care.
Feel free to try out our tips on your next shaving session and tell us about your results in the comments below. Also, we would love to hear about any tips you may have for shaving and trimming as well.