Bald Eagle Skull Shaver Reviews – Best Electric Head Shaver
This Skull electric shaver is the best shaver for shaving your head. Bald Eagle Skull Shavers design is unique and the base of the shaver fits in the palm in your hand, and the razor is gently made up of five rotary blades which are stainless. The blades are very flexible and adjust very well to the contours of your head for a better shave. You do not need to use shaving cream or any liquid. If you need a clean head shave everyday then you must go buy this head shaver. Since the shape of our head is much different than the shape of our face and necks, this shaver will not efficiently shave anything but your head.
Why Skull Shaver is best as Head Shaver?
This shaver is designed to work on a semi-smooth surface, but not a face which is full of hair. It has a few attachments which can be purchased separately that will work with the Bald Eagle Skull Shaver handle. You can also buy a clipper attachment that has a clipper blade and also has a clipper guide for balding free escapades like a standard haircut. This is may not be the best beard trimmer 2015 or shaver for your face, but it works just fine for your head. Many of its users belief that skull shaver works better than most other mid-end shavers while shaving their face.
Most of the rotary shavers have two or three separate heads but the Bald Eagle Shaver has five individual heads which are flex and adjust to the shape of your head. The motor of this shaver is  well-powered and makes head shaving a fast and effective process in conjunction with these five heads. Using this shaver you won't feel any irritation or itching and this shaver will give you a comfortable and pain free experience. You can also detach all the heads, which helps you perform an easy cleaning or replacement.
Battery Life and Charge Time:
As soon as you open the box you can start using the Skull Shaver. It is boxed partially charged and in discharge mode it only takes four hours to recharge fully. Once fully recharged the shaver can last for 30 minutes before it needs to be charged again. Hopefully, it won't take you 30 minutes to trim your head and even face. In fact, a full charged shaver should perform multiple shaves.
Easy to Clean and Maintain:
Cleaning the Skull Shaver is very simple, as well as replacing the blades.. The rotary blades pop off the Skull Shaver handle. On the other side of the head you will see a small indentation for each blade. Disassemble the blades, rinse then dry, and pop right back into the place. A tiny brush is included if rinsing does not do the job properly.
Skull Shaver is uniquely designed including interchangeable heads and a pre-recharged battery make this electric shaver pretty effective and convenient. Pack this shaver in your suitcase if you are on the go for a fast and smooth shave.
The only real downside of skull shaver is that it cannot be used when attached to a cord or when it's plugged in. It can only be used when it is cordless. If your shaver is not charged and you need to use it, then you have to wait only four hours for a full charge.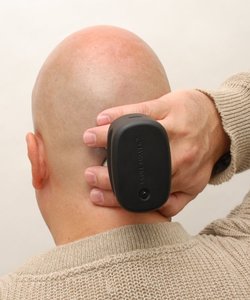 Furthermore, the service of the product is outstanding. User reviews shows that replacements of parts within reasonable prices are incredibly easy to retrieve and the response time of the Bald Eagle shaver is positively outstanding. Within best electric shavers 2015, I found this one that's best for head shaving as well as face. The charging time of the shaver may be a point of sorrow but it is worth noting that the device can run an average of multiple times when charged fully, which is depending on how long it takes you to trim your head. I hope you a happy time shaving with the best Bald Eagle Skull Shaver!