7 Best Electric Shaver for Men in 2018
Picking the 7 best electric shavers of 2018 for men is not a very easy task for many men out there because most shavers never give you the close shave you want, while others can irritate your skin with rashes. So, if you are looking for the best electric shaver of 2018 that can be the best fit for your shaving needs, then I ensure you that you have come to the right place that can help give you honest reviews to help you find your desired shaver. This article will help you find the best fit for you through trials, reviews, and research!
Best Electric Shaver 2018
After trials and research, I have conducted, I finally created this up-to-date list of the best electric shavers for men in 2018. I can ensure you that these are the best models from any others on the market. Let's check out these top 7 most recommended shavers for men in the marketplace of 2018.
Braun 9090cc Electric Shaver

 –
After coming to the market, Braun 9090cc shaver became the hottest kit t0 have. This shaving kit is the best product yet of the famous brand Braun. I highly recommend this shaver if you are not satisfied with your current kit or are looking for a better one that can give you the ultimate shave. After first trials, this Braun series 9 shaver became my favorite one. You can pick this shaver without any hesitation. Currently, this one is the number one foil shaver on the market. It is best for your 3 day-long beard because it is proven to be an efficient and comfortable shaver. This kit uses Intelligent SyncroSonic technology with 4 specialized cutting systems. It can cut 40,000 times each minute, and it's specially designed to capture different kinds of hair. The latest edition is the quadruple action cutting system with the highest facial adaptability. Within a short period, this shaver gets 300+ positive reviews on Amazon for its top class superiority.
The trimmer cuts hair efficiently on the neck and chin, while the shaver's direct and cut trimmer technology ensures a smooth shave for hair that grows in different directions, giving you the best shaving experience. Powered by a Lithium-ion battery that lasts longer than the average battery life, this waterproof shaver can last almost up to an hour of cordless shaving and is suitable for a dry shave and wet shave. It has a display on the screen that shows the status of the battery, hygiene alert, and travel lock indicator.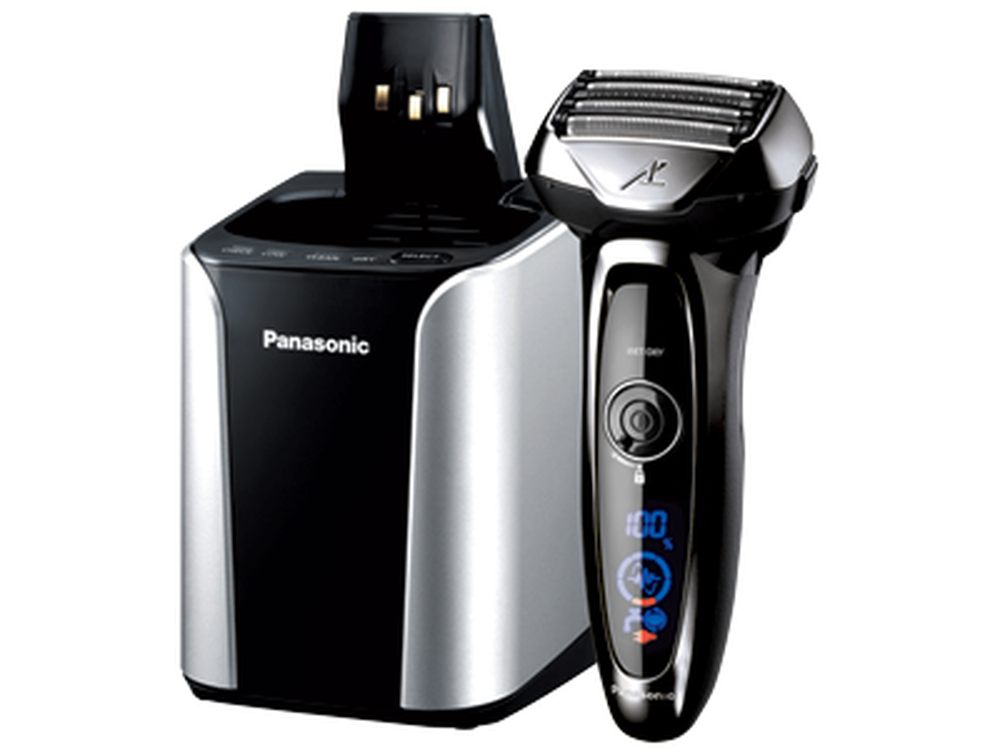 If you are having a problem with your thick facial hair and want to get rid of this problem, then the Panasonic ES-LV95-S is the best option for you, and I highly recommended it. You may have used many shavers before now, but they may not have given you the result you were hoping for, but with this shaver, you will constantly be surprised and satisfied with the results.
The Panasonic ES-LV95-S uses the 5-blade cutting technology, which is the first of its kind and it will save you from your shaving problems. This shaver comes with 100% waterproof technology which contains 30-Degree NANO BLADES to give you a faster and closer shaving performance. It also has an automatic charging and cleaning system with a built-in trimmer. On Amazon, many customers reviewed it as the best shaver they used ever, but it's not the best option for those of you with thin facial hair since it's expensive and you could easily use another shaver for a lower price. For thick facial hair, there are no other better alternatives for this specific shaver. For its overall performance, it takes the number one position in our top 7 recommended shaver list in 2018.
The Braun Series 7 799-cc is the best one for replacing the series 7 790CC. In the present market, it is the most advanced shaver from the German-brand Braun. It is considered as Braun's up-to-date shaver which uses the latest technology to build this razor. I put this one in the number two spot because its performance is awesome, but also a little pricey.
It is made from an advanced shaving system which is why it can give you the highest flexibility. The flexible shaver head perfects even the most difficult contours. 40° pivoting shaver head navigates efficiently along larger contours for best skin contact and smooth shave. It has individual suspension of all cutting components reacts even to the smallest forms for ultimate shaving experience.
Series 7 799-cc is perfect for both dry and wet shaving. It is the top pick for men who want wet shaving without skin irritation and the best for flexible shaving. Every minute, it creates 10,000 micro vibrations that can help you cut and capture more hair with every stroke. It has 3 types of shaving modes – normal, intensive, and extra sensitive that can help you to manage your beard effectively within different facial areas. For its use of advanced technology, Braun electric shaver is the best-selling shaver in the market.
The Philips Norelco S9721/84 9700 shaver will be the best pick in 2018 if you are looking to change your old Philips shaver and want an excellent shaving performance. Its head moves in 8-positions freely to follow every curve of your face. Its advanced outlining helps to capture more hairs within each pass. Its advanced designed cutting blade gives you a close and comfortable shave by catching hair from different positions. You can also select speed type – slow, medium and fast- that fits you best, depending on your facial hair and skin type. It has a premium user interface so that you can easily control its performance to get the best output. Philips Norelco S9721/84 is made with an advanced multi-display indicator to track its movement with every step; it also has a low battery, battery level, head replacement, cleaning, and travel lock indicators. I love its sleek design and shape which makes it easy to use even in the shower. Due to its multi-function technology, it takes third place in my review of the top 7 shavers of 2018.
Panasonic ES-LV81-K is another one of the best electric razors from the Panasonic brand which contains a 5-blade (30-degree nano blade) advanced cutting system with 14,000 CPM linear motor power that makes this shaver super fast. With this shaver, you can easily get a close, fast, and clean shave. It's made using foil technology that can help you to capture and cut long, thick facial hairs smoothly. It also features automatic charging and cleaning technology that helps you to charge, clean and dry easily with a built-in pop-up trimmer. For its high-speed motor power, it produces much less noise than other similar shavers. Panasonic ES-LV81-K is made by the Japanese and it is 100% waterproof and capable of both dry and wet shaving modes. If you are looking for a mid-range shaver with the best shaving performance then this is the right one for you.
Philips Norelco 1280x SensoTouch will be best pick for you if you love rotary shavers. There is no doubt that this is the top rotary shaver in the present market. It can give you a clean and close shave around your neck and your jawline. You will also get a fast shave with Norelco 1280x and it can even be less than 3 minutes. You can also use it for dry and wet shaving. If you have sensitive skin then I recommend this rotary shaver. It also contains JET Cleaning technology that can clean, charge and lubricate the shaving unit. With this shaver, you can get a smooth and comfortable shave because it prevents irritation. It has a powerful battery which can give you up to 60 minutes of shaving time just by simply charging it for an hour. If you want the best rotary shaver on the market that you feel that you spent your money wisely on, the Philips Norelco 1280x SensoTouch is the ultimate solution for you.
Braun CoolTech is the best pick for those of you who have sensitive skin, especially for those of you that are looking for low range shaver that is worth your money. Research says that about 40% of men have some kind of sensitivity to their skin. Its advanced cooling system repeatedly cools the skin when you shave. It also has 3-stage flexible cutting technology that allows shaving to move in parallel directions on all facial curves. Also, its senso-blade system catches growing hairs in various positions for ultimate softness. It's renewed and clean technology charges lubricates and hygienically cleans the shaver. You can use both dry and wet shaving and it can be used in the shower. That is why many men prefer Braun CoolTech as their preferred shaver.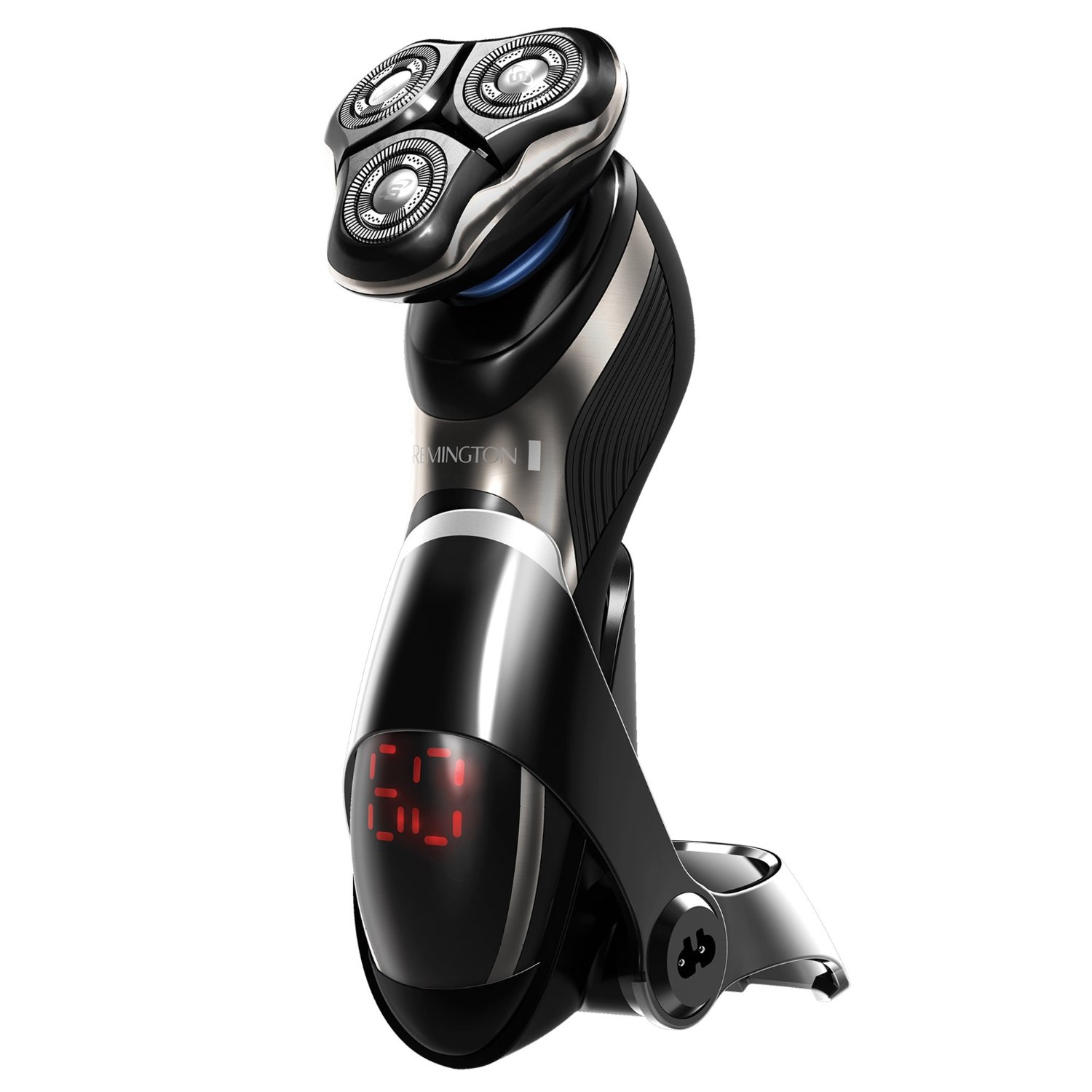 Remington XR-1370 is in the number 7 position on my list because its performance is excellent as an entry level shaver. It is most skin friendliest shaver I ever used. The best part of this shaver is it can be used for all types of hair. It's designed to deal with rough hair by causing less skin irritation. If you are looking for a low priced rotary shaver with satisfactory results then you should go for Remington XR-1370. Its shape and grip design make it more comfortable in your hand. XR-1370 is the best quality rotary shaver claimed by its manufacture. So, if you are looking for a shaver in a cheap price range with the best performance then this is the best one for you.
Electric shavers and best beard trimmer are a must-have item for most men in today's life. Everyone wants to buy the best one for them from thousands available in the market, but picking the right one is not so easy because all the sellers tell you that theirs is the best. To save your time and to make sure you get the most value of out your razor for the money you spend, you can pick your favorite one from the review above depending on your requirements or even based on price. I wrote this top electric razor 2018 list based on research, customers review on Amazon, along with self-trials to help you choose the best one for you.
How to Pick The Best Electric Shaver of 2018?
Most of the top electric shavers 2018 out there are rechargeable, so these are great if you want to use them while on the move. Many of these could be used from the main or cordlessly, which gives you one other way to use it if you ever run out of charge. When you try to make a choice about purchasing an electric shaver, there happen to be a plethora of different other features to consider. For example, when you decide whether you want a rotary model or a foil, you would also have to think about if you would want to use the shaver in the shower. Again, you might want a model of pop-up facial hair trimmer, or maybe you would want a shaver which compliments your sensitive skin.
The suggestions we have here are to help you pick which kind of shaver is going to suit your necessities. Once you decide what shaver is the best one for you, you could read our full reviews on top electric shavers 2018 in order to see what models have been selected for best performance.
What types of electric shaver are best?
Rotary shaver is a kind of electric razor that generally has 3 circular heads which rotate, catch and shave your stubble. All the Philips models of electric shavers, plus some of the Remington units, have these rotary heads too.
Foil shavers
The foil shavers possess straight heads which use swinging blades underneath a fine and perforated foil that cuts facial hair. Brands like Braun and Panasonic shaver models have foil heads as well as some of the Remington models of shavers.
Opinions are divided about which kind would be the best. Our expert trials have found that both types of models excel at comfort and shaving enough in order to get our "best buy" referral, so we think it is basically a matter of your personal preference.
Many other models, including every 'dry and wet' model, are rechargeable and can be used cordlessly. That gives you a lot more freedom for moving around when you shave. However, it means that you cannot use it while it charges. Electric shavers which could be used while still wet are cordless, in order to make sure that you cannot plug these in when you use it in the shower.
Mains rechargeable shavers
The mains rechargeable shavers could be used when they are plugged in the mains or cordlessly. The mains alternative is quite useful in case you forget to charge it up before you have to use the shaver.
What Features to Look For?
Some of the best electric razors of 2018 have a pop-up trimming system, which means you would not have to switch gadgets in order to complete the grooming. You might have to invest a little extra in this, but it will save you time since you wouldn't have to pause and hunt for another attachment halfway through the morning grooming.
Like using it dry, some of the cordless shavers could be operated with shaving foam and gel. The hypothesis would be that it gives you the best of both worlds – dry and wet shaving. Some of them could even be used in the shower. This way you can accomplish two feats at once. However, always go through the instruction manual before wetting your shaver, because not all can be suitably used this way.
In case you wish to maintain a mustache or beard style, you should look for something that will include a comb in order to aid keeping your beard at a perfect length.
A lot of cordless shavers 2018 have this quick charging feature, which means you could plug these in just before you get into the shower and it will be ready to get you a nice shave after you finish it.
Some of the top ranged cordless shavers possess a digital countdown screen which shows how much shaving time is left before you run out of charge. Other shaver models have red and green indicator bars or lights to show when the shaver is recharging, completely charged or the amount of charge that's left and if the battery should be topped up.
How to clean your electric razor?
Most of the top electric shavers of 2018 must be cleaned to clean out skin particles and cut hair. You can either do it yourself by tapping out the stubble or by brushing, but nowadays, you will find that most shavers can also be cleaned up under your running tap. Always go through the instruction manual before wetting your shaver up, because not every model can be cleaned like this.
A few of the best electric shavers of 2018 models come with their own cleaning system, so that they could clean themselves up. Just pop the shaver into its base unit and put it away. This is a hassle-free method to keep the shaver fuzz-free and clean – you only need to top up its cleaning fluids or replace cleaning cartridges every now and then.
How to ensure the best shaving performance?
Stretch the top lip over teeth –

it gives you a closer shave beneath your nose.

Drag your skin tight –

it would allow your shaver to give a close shave.

Replace the razor heads frequently –

to keep up a close shave continuously, change heads every eighteen months for the foils and every 2 years for the rotaries.

Moisturize after –

use some after-shave with moisturizer in order to keep the facial skin flawless and healthy.
Pros and Cons of using Electric Razor
The Pros:
Speed –

According to the consumer survey we had, 67% of our users stated that using the best electric shaver in 2018 is faster than traditional razors.

Vacation –

You could carry the shaver tucked in the hand luggage you have and some of these would stay charged up for ten to fifteen days. It stays charged long enough if you want a stubble-free business trip.

Handiness –

You wouldn't need gel or water so you would not have to go in the washroom, though many shavers can be used soaked if you want. Electric shaving is definitely less messy than normal.
The Cons:
Expensive –

Though you could pick low-mid range electric shavers for less than fifty bucks, a top range shaver with additional features could cost more than two hundred bucks. The heads or foils have to be restored every couple years or so.

Not close shave –

Users have shown that most of them will still think that razor blades give much closer shaves compared to other electric shavers.
Picking the best one also depends on many factors like – ease of clean, ease of use, performance, durability, customer service, the capability to provide a clean and close shave and lastly, value for money spent.  After analyzing these different key factors I wrote this recommended list of best electric shavers of 2018 for men to ensure that you will pick the most suitable razor for you.