5 Best Mustache Wax Options in 2018
It's 2018, and that means it's time to upgrade your grooming routine. Perhaps your barber just isn't cutting it anymore. Maybe the man bun is so 2016. Each man has his own way of doing things. Therefore, why rely on a single product to get the job done? Below is a list of the 5 best mustache wax and butter options on the market.
Ranging from most affordable to higher end waxes, they accommodate all budgets. Take a moment to learn more about mustache wax, how it works, and where to find it! Don't be afraid to shop around and compare products. This way, if one way doesn't work out, there are other products to test out. Here are 5 products that can elevate your routine.
1. Clubman Moustache Wax with Brush Comb – Neutral 14g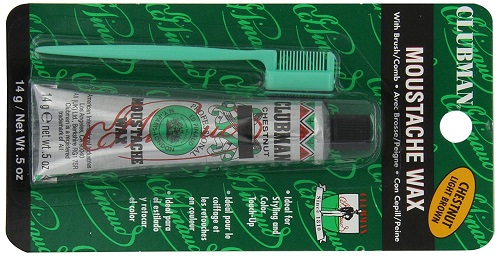 Looking to keep it old school? Consider getting a Clubman Moustache Wax with Brush Comb – Neutral 14g. This simple 2-in-1 pack of wax and comb takes the hassle out of going through a multi-step styling routine. No more fumbling around to find the right combination of product and tool.
The best mustache wax shouldn't require you to put in loads of effort. This classic wax can be used to easily style your mustache into the desired form. Having the comb included makes the process that much simpler.
Also compact in size, you can carry this with you on the go for any necessary touch-ups. If you require a larger comb, you can purchase the Kent 81T- Men's Handmade Beard/Moustache Comb. Ironically enough, this alternative comes in the size X-Small.
Another appealing quality about the Clubman Moustache Wax with Brush Comb is its low price. Accessible to everyone, this wax is a great way to begin experimenting with mustache styling methods, without breaking the bank.
2. ArtNaturals Moustache and Beard Balm-Wax – 2 oz – Natural Oil Leave-In Conditioner
For a cheaper and eco-friendly alternative to the unknown chemicals in standard hair products, try the ArtsNaturals Mustache Wax. Produced with entirely organic ingredients, you won't have to worry about synthetic substances becoming part of your hair routine.
A nice fusion of mango butter, Argan oil, and Jojoba oil, the antioxidants included in these fruit-based oils can strengthen your hair. Using all natural ingredients means this product can provide extra benefits for your skin and hair.
Be sure to decide beforehand whether or not you're a fan of citrusy smells. If you're into citrus scents, this product will liven up your morning routine. On the other hand, if you find fruity scents overwhelming, you may want to put this product back on the shelf.
Another benefit of using natural oils is that they can serve as a leave-in conditioner. In the long term, it will soothe any itching you experience. Many men have to deal with an irritating itch in their mustache or beard. Therefore, this formula helps relieve them of that struggle.
Why shave your facial hair off completely if you can find an alternative solution? A man's facial hair can impact the way he feels about himself. Therefore, having multiple options is important.
3. Stache Bomb Stache Wax Mustache Wax
Starting off with one of the best products created for a tight budget, this mustache wax created by a man who named it the Stache Bomb Stache Wax Mustache Wax. Made in Maine by Jamin Badger, this mustache wax is designed to be of the utmost quality.
The primary ingredient is beeswax, with a decadent splash of pine-infused citrus scents. The Stache Bomb also happens to be one of the most successful products in its category. If a professional wrestler like the Iron Sheik can depend on the Stache Bomb, it's probably a good investment.
 4. Can You Handlebar All-Natural Primary Moustache Wax
Cleverly branded in an amusing package, the Can You Handlebar Wax is known for its durability throughout the day. You can go about your day freely with this one, knowing that your mustache will remain in one place the entire day.
Add to this the benefit of vitamin E oil, and we've got a winner mustache wax on our hands! An exciting fact about this homemade brand is that the mustache wax itself uses locally-sourced wax from the bee population in Michigan.
5.  Firehouse Moustache Wax, Wacky Tacky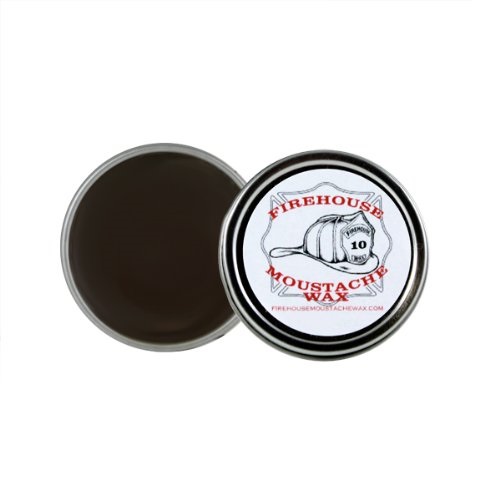 If you're feeling luxurious, consider getting your hands on one of the more expensive waxes to hit the market. Is it the best mustache wax? You decide! The Firehouse Moustache Wax, Wacky Tacky arrives in a compact tin container made to fit in the size of your palm. Don't be fooled by the silly name–this mustache wax gets the job done!
If you need a long-lasting, reliable best mustache wax, the Firehouse Moustache Wax could be a great option for you! This wax works best in combination with a comb and the Can You Handlebar All-Natural Secondary Moustache Wax. This product is the most versatile of the bunch, as you can also apply it to your beard.
In Conclusion
The possibilities are obviously endless when it comes to keeping one's mustache looking neat. There's nothing wrong with leveraging modern formulas to keep yourself feeling good. You know what they say: when you look good, you feel good.
Our appearance is an important part of our identity and our self expression. We're all different, so why rely on a single product to get the job done? Explore different options to see which one works as the best mustache wax for you. Let us know which you or your friend found to be the best mustache wax! Give these newbies a try; your mustache will thank you for it.