Andis Professional 04710 Review, T-Blade Beard Trimmer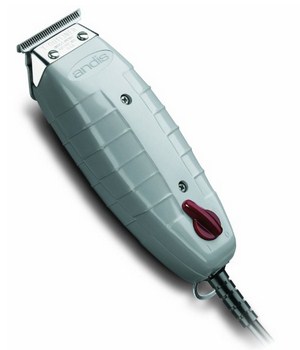 These Andis trimmers were recommended to me by a friend a few years ago and they have proved to be an excellent investment. Don't be put off by the price as these really are salon quality trimmers that make trimming your hair incredibly easy and efficient. I've had mine for 3 years and they still work as well now as they did when they were brand new, whilst saving me tons of money I would have had to spend going to my local barbers on a regular basis.
While it may look expensive for its size, considering it is only 1.8 by 1.5 by 5.2 inches, and weighs a little over 1 pound, it is the blade and the motor underneath that makes the difference in performance. Andis uses carbon steel blades for this model making them more precise, sharper and durable. It also uses a T-blade design which is what you want to get if you want to be able to shape and sculpt your sideburns, beard, mustache or goatee.
The close-cutting blades give a really neat cut and can be used on all sensitive areas such as the neck and face without causing annoyance or irritation. For dry shaving, I use them on my beard, mustache, neck and ears and you'll be hard pushed to find trimmers which make edging, particularly around the ears, fading and outlining so easy. The blades are adjustable so that you can get an even closer cut if necessary.
The trimmers are never going to cut as close as a hand razor, but it's as close as trimmers will get, making this device ideal for someone who wants to leave a fine layer of stubble on their face.
It is advisable to purchase the Andis Attachment set, containing 4 different style comb lengths, if you want to leave your hair at a certain length rather than cutting it off completely. I have quite thick hair, which cheaper trimmers have sometimes struggled to cut through, however Andis trimmers go through it like a knife through butter.
These trimmers use high-speed motors to power the blades. The only downside to that is that they can be quite noisy when in use and they can, understandably, become quite hot if used for a prolonged period of time, which is around 25-30 minutes.
Checkout Customer Reviews & Ratings at Amazon
However, with the quality of the blades you probably won't need to use them for much longer than that anyway. If this becomes a problem for you try using Andis Cool Care Plus which will cool down the blades when they get too hot.
Aesthetically the trimmer is nothing you wouldn't expect from a set of trimmers, with a plastic casing and an on/off switch located on the topside of the device. They are surprisingly light and very easy to hold, even when doing your own hair, and the power cable is long enough that you won't have to stoop down towards the plug socket when you are cutting.
Make sure that you take proper care of these top beard trimmers 2015 as they should be an investment – that means cleaning them properly after use, storing them away in a safe place and oiling the blades regularly. If you do, you won't have to pay for another haircut again.
All Purpose Hair Clippers
Some people like this product because of its professional quality and unlike many facial hair trimming devices, it actually works well as a best electric razor 2015 and even hair clipper. The motors are strong enough to handle thicker head hair and you can easily maneuver it around the ears to cut the sides.
Overall, this is one of the top beard trimmers on the market, especially if you want the ability to precisely control how your beard will look.